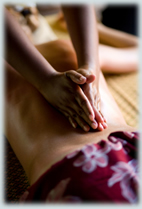 Originally I received a gift certificate to A Soothing and Comforting Touch in 2006. I was very impressed by Anya's professionalism and welcoming spirit. I never felt nervous or apprehensive. And after an hour of the bliss, restoration, and healing I experienced, I knew I was hooked and became a regular customer. At some point, Anya and I lost touch. But I am so relieved that we have re-connected recently and she is, once again, providing her healing touch in my massages.
I've gone to several massage therapists in the past. I can't say they were bad. But I can say that they just didn't seem to bring me any healing or relief. There is a world of difference in the massage I get from Anya. Not only is she attentive to areas that need specific focus, she views her therapy as a whole-body experience and takes the time to talk with me in order to get a more comprehensive idea of what is happening in my life and how my personal circumstances are affecting me physically. There are many insights she has brought to my attention, explaining how certain movements or stresses are bringing pains to my legs, back, shoulders, and arms. With this information, I have been able to make adjustments in my life to address the issues and thereby relieve myself of much of the recurring pain.
Additionally, when Anya provides her massages, I can tell how much she truly cares about me and how her every effort is focused on helping me feel better. Every detail that occurs during my appointment is filled with her genuine care. Her appointments are always positive and refreshing. Her techniques provide me with relief that lasts for days. And her patience in working on problem areas until they are healed and improved is so very much appreciated.
I can't say enough about how wonderful Anya is and how much I appreciate her gifted talent of massage therapy. She truly has healing hands that have been blessed by the Lord and I feel she has definitely found her true calling in this life. I am so thankful to have reconnected with Anya and to once again be able to experience her healing and restorative massages.
Jacque Harvey
---
Amazing- I really enjoyed the massage and it was relaxing. I like how you go down my back when I am laying face up and how you move and stretch my legs after massaging them. I loved it!
Amanda Johnson
I appreciate Anya's flexibility to see me on short notice. I thoroughly enjoyed my experience of attentive therapy, relaxation, and care. Anya made sure to work on the problem area but I discovered there were other areas that also needed attention. She incorporated these areas into the massage as well. Anya informed me of the problem areas, potential sources of the pain, tension and gave me suggestions to follow-up my massage to ensure completion of the therapy. I look forward to my next visit.
Bernell L. King
---
I was experiencing a lot of stress and tension before I came to A Soothing & Comforting Touch. My neck, shoulders, and upper back never felt relaxed and hurt a lot. I was having a lot of headaches. Anya has a magical touch. She's so wonderful. I'm able to relax and breathe better and have had no throbbing headaches.
Brenda Price
I am a wife, mother of two and also a business owner. I stay very busy all of the time! I slept wrong on two pillows very tired one night and it made me have a stiff neck and upper back soreness, so I knew just who to call, "Anya." As soon as I could I picked up the phone and said help me I am hurting. I got an appointment in the same day and I was truly blessed. I feel so much better! I am going to make it a point to come in at least once a month to treat myself! I also told her I would give her extra to just let me come and get a nap sometimes!
Tangie McKinney
May God continue to bless your business!
---
I was having severe pain in my back. I was completely tight and tense and having muscle spasms. After my first massage I felt loose a lot of the pain had subsided. Even after the massage I could still feel the warmth from deep penetration into my muscle. Anya you definitely have the Soothing & Comforting Touch. I will be back and will recommend others.
Thank You,
Will
---
Anya has healing hands. After my facial, I had to take a few minutes to recover as my whole body and mind was so relaxed. My skin felt so smooth. This was truly an enjoyable experience.
Dee Stoddard
---
I have really enjoyed my experience here. I should have scheduled for an hour instead of 30 minutes because Anya worked the tension out so well, but my body called for extra. The techniques used soothed and relaxed my body, leaving me feeling energized and ready for a day of enjoyment. I will definitely be back!
Rachel Hayes
---
I came in the office today with a lot of pain in my upper shoulder and neck/spinal pain too. I have been having problems with a lot of sweats in the hands and feet –Anya's Soothing hands relieved me from all pain in my upper shoulders and totally relaxed my body. I feel painless. I am really thankful to have found your card after two years! Just when I needed a body release God had it fixed for me to find a long lost friend. Again, I feel totally relaxed and free!
Thank you so much,
Natasha Kerns
---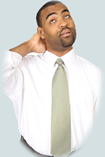 My name is Reginald I have been a long time customer of Anya's, and from the very first experience at A Soothing & Comforting Touch, it has been a pleasure.
Reginald Heilig
I came in for the first time on Saturday afternoon, feeling the weight of the world! I left DANCING!
Thanks,
Randy Shuler